DAY NINETY-FIVE
Maristel answers the jury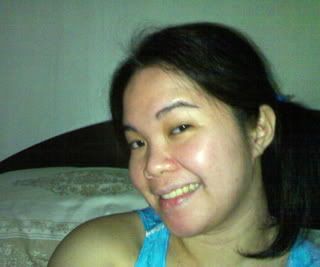 FROM: CHARLES MARK VILORIA
1. What contributions to the virtual house have you given to the following seasons:
a. Your own season
b. All Star Season

Answer:
a.
This is kindda hard… I can say that "MARISTEL" being "active" during PBBFG Season 2 and PBBFG All-Star is my greatest contribution @ the Virtual House… Some may say that, attendance is not always a must but with this Virtual Game, being active I say can count as many times as to being absent… During my During my Season, there has been a lot of activities… I've always been an active participant of every battles or activities that BBK will be hosting, actually… I've been HONEST, UNDERSTANDING and SPORT all throughout… I've always been a FRIEND, a FAMILY… My group PAJEMAREMA were actually the ones who gave life sa Virtual House… As much as possible we tried to flex and spearheads for the game itself… We made the house and the game the life of it all and one of the reasons why we wanna spend time online… Another contribution, I can say.. - would be my TIME.. Time means a lot to me, but never in my, entire life I said that I'll quit the game… I stood still FOR THE LOVE OF THE GAME… I conquered everything… Been through a lot of discussions, been with mild arguments but that didn't stop me from fighting… Instead, that kept me GOING and kicking still… Motivation and Persuasion has always been the game and FRIENDSHIP has always been my key to get through the heart of the game, the mind and soul through it all…

b.
During this ALL STAR SEASON, I say that the greatest contribution I have given would be my TIME, how I play and participate with the activities & the battles… Camaraderie, Loyalty and PASSION… Those mentioned above were always been my key… How could one finish this game without TIME? How could one be a true virtual housemate without participating? How would you call a HOUSE a HOME without CAMARADERIE? Without LOYALTY? Without PASSION or LOVE? If BBK's the brain inside the virtual house and we're the body parts, how are we going to obey and follow his rules without all of those? How are we going to mobilize or start an action without the brain? Without the body parts or the VIRTUAL HOUSEMATES, it's LIFELESS ORDINARY… In certain points, I say… I've given my utmost BEST for the GAME and that's the CONTRIBUTION I am most PROUD of…

2. Of all the contributions that you have stated above, pick one that was clearly the greatest contribution that you gave in the course of the game.

Answer:
I say that MY LOVE or PASSION for the game is the greatest contribution that I have given in the entire course… For with LOVE and PASSION developed, things has been more clear to me… How to do things the right way in a right manner and everything… I've been a real "pasaway" I may say, but still my LOVE and PASSION for the game didn't destruct or didn't confuse myslef on how I want to play the game… With LOVE and PASSION, I've build and met few of the greatest players in different Seasons… I'm proud and happy being friends with them… If there's no LOVE or PASSION, I doubt the FRIENDSHIP built… But with LOVE, FRIENDSHIP grew more and deeply… Love became the blood and the oxygen that pumps inside our hearts and our veins in our system and that's LIFE… The LIFE that LOVE had given ME and everyone else inside the house…

3. Considering your own contributions to the Virtual house, who do you think, from the other two, deserves to be the All Star Big Winner? Why?

Answer:
I say GEE… Because we almost share a lot of things in general inside the Virtual House… We may have some differences but that doesn't actually mean that we doesn't jive but that drew us closer actually.

4. Follow-up on number 3, why didn't you choose the other?

Answer:
No personal reasons actually. Gee's the first person that popped in my mind… Actually, I can say that MICA also deserves the title… But, win or lose I think Mica doesn't mind it that much… From her confessions, I read that she might as well like to be a JURY na din… Mica gave her best, put an efforts din, but the game itself - I think is a tight competition if Gee and I will be the one who go for the BIG WINNER slot (as runner ups before, I guess…)

5. I f you were given the chance to vote, would you stick to the alliance that you have made, or vote according to your conscience? Why?

Answer:
There's no such thing as ALLIANCE actually… No ALLIANCE were made… If there is, it's FRIENDSHIP, I must say… If given the chance to vote, I'll vote for the Virtual Housemate "WHO REALLY IS" deserving for the title… According to my conscience? I've always voted for who I think shouldn't stay and that wouldn't bother me much… Coz once I made a decision, that's it and no coming "in" clean… Voting or saving the housemate that's desrving is the BEST I can do… And my conscience has been clean eversince…

6. Everybody knows that alliances exist in this game, whose alliance you have placed yourself? Why did you have chosen them, and not the others?

Answer:
I really don't believe in ALLIANCES not until I had a few chats with the first Big Winner himself from Season 1. Even before the Season I was in, people thought that PAJEMAREMA has been an alliance… It never was and never been… There's no such thing as ALLIANCE here in ALLSTAR actually… If people think that "there is" - I can't really blame them… Thinker-Doer I presume… Alliance is not my thing for a game… Coz when you say ALLIANCE, you or one of you is strategizing, and this game has proven many peeps that strategizing never really works here… If you're gonna win, YOU ARE… If not, YOU'RE NOT… Asking me, why not the others? - I really don't know… I guess… I felt "welcome" and "warmth" with the fellas I made friends first here since Day 001 of All-Star… Friendship is my thing not Alliance… And FRIENDSHIP rocks the most than anything else…

7. If you win the All Star Season, and you received the promised Php 1000 from Neil TG of Season 1, what would you do with it?

Answer:
This one's funny, really… If I'll be called or declared as the All Star BIG WINNER and receives the Php 1000 prize money, the least I could do, is call the fellas I met during my FIRST EB in my entire life.. Call some of the VHs too and meet them some place again and we could all go somewhere and be comfy and cozy with each other… Kahit pati si Neil TG na nag sponsor nung prize money, I'll ask him if he could make it, para naman mega GRAND EB ang mga mode naming mga Virtual Housemates!!!

8. Given the situation that you won, and the former VHs decided to protest, and BBK decided to take away the title "Big Winner" from you. What would you do?

Answer:
Anu naman yon, blunder? Hahaha! Most definitely, what's declared is declared… What's done is done… Para namang napakasama kung mangyari man yun… Whoever ang mapick na BIG WINNER here sa ALL Star eh, deserving… WHY PROTEST?! Eh kung sa nagsama-sama na ang mga Magagandang Nilalang eh… Kung gusto man na bawiin ang title, it's up to the VHs who will protest, basta kapag WINNER, WINNER na… Dapat wala ng bawian… More like saying I LOVE YOU and not mean it…

9. Give a comment or statement to the following issues that All Star Season had happened, at least 2-3 sentences:

a. EXITS:
i. Benjamin's Forced Eviction

Answer:
I'm one of those few who reacted and got affected on his Forced Eviction actually… For me, it's a mixed emotions but all were most of "SAYANG" stuffs… I wish that he stayed longer coz his stay @ the Virtual House is short-lived, I just hope that I've known him more…

ii. Jomar's Voluntary Exit

Answer:
The EB actually will be one of his reasons why he quit the game (I think..) It's his decision actually as an idividual and as a housemate… But he shouldn't QUIT at all, coz if he can still prove himself in the game, why not do it? That's a real housemate is, a FIGHTER as well.. ** and to add up: He has said a lot of mean things actually, that's just so below the belt.. He may have been hurt by the VHs he's supposed to be meeting (I'm one) but he should have considered that WE all get hurt too…

iii. Marge's Forced Eviction

Answer:
I was hurt when BBK made a decision to Forced Evict her actually… But she has said stuffs and made promises that she'll keep us in touch during the days she's been floating, but she did not… I say, she should have sticked to her word instead and bawi na lang siya… Well, that's how life is.

iv. 3rd eviction's two-highest VH to be evicted (Ian and Kenneth)

Answer:
Not FAIR actually… Kindda like minadali ang game which mas okay sana kung isa lang ang na-eliminate… Tsaka parang a bit blown-up ang nangyari, coz the Virtual House both lose the Villain in Ian and the Creative Computer Smart Kenneth…

b. Controversial Rules:

i. Rules against the usage of vulgar words

Answer:
Usage of VULGAR WORDS, I have nothing against it actually… But for some points na di naging malinaw like using vulgar or obscene words sa BLOGS, it should have been stated clear, or, how I wish in some certain points, may mga words na pwede gamitin.. Kasi Pinoy Big Brother is a lot being TRUE as YOU are, parang nagiging plastik lang ang game, if lahat tinitimbang…

ii. Rules against visiting the PBBFG All Star Blog

Answer:
I don't see anything wrong visiting the BLOG SITE actually… It's just that before, di naman namin nagamit ng matagal ang Forums or Boards, and mas madalas kami sa Blogsite before… But whatever it is kasi na I-oblige sa amin before, that's the thing we do lang talaga… FOLLOW…

iii. Rules against direct messaging on the confession thread

Answer:
Nuthing against it actually.. Kaya lang di naman kasi masyado nalinaw before or talagang sira lang ulo ko and hirap akong intindihin ang simple rules.. Mas okay lang sana if you can say everything about the game and the VHs all in all na in one package.. But, I'm totally cool with it.

iv. Rules against commenting on the Househould Council

Answer:
This I say, ain't FAIR… HOUSEHOLD COUNCIL nga right? So we have all the rights as a Virtual Housemate to comment on the stuffs we read in there.. If we comment on our Confessionals, it shouldn't be that biggie, kasi nagsasabi ang nag-oopen up lang naman kami ng mga saloobin namin kay BBK, we may find some of the questions sarcastic - still, we have every right to say what we wanna say… Kaya nga merong Household Council eh, to discuss things… Kaya din andun ang Confessionals, for us to show our real feelings and emotions and how we see things around the Virtual House…

. Events

i. Dry-Run of Nomination

Answer:
Okay naman for me yung DRY-RUN or yung Mock Nomination… Kaya lang for those who reacted like they'll be evictees that time ang di okay… Okay nga eh, kasi we're like given an idea who's the least & the most who'll be voted and saved sa game…

ii. Benj and Kashen . Jomar / Trish / Rommel War

Answer:
No comment na lang ako… It's a kid thing… And it never was my thing to meddle lang talaga with other people's business, kaya lang some must be sensitive enough din on who they're going to be walked on with that matter, minsan kasi, wala pang ginagawa sa kanila, react na…

iii. Kenneth's logo

Answer:
Kenneth's LOGO's COOL!!! Speechless ako nun when I saw his works… Very creative and all I just hope naging continuous ang naging updates ng ginawa niya, mas COOL!!!

iv. Fake I.P. Addresses

Answer:
I was one of the victims here… Ok lang naman kung nameke ng IP addresses eh, kaya lang guys who got involved must have took extra precautions. Na-offend ako upon seeing my name actually sa TAG BOARD but okay lang kasi, whoever it is behind it is, we all know it's their conscience naman not mine…

v. Charles and Trish War

Answer:
Is there such thing, really? Parang di ako aware sa bagay na 'toh… If there is, sayang di ko nasubaybayan…

vi. Paolo-Kashen short-lived mutual relationship

Answer:
A bit sad on how things went… But the thing with VIRTUAL Relationships and Long Distance Love Affairs aren't that a thing that will last talaga… Iba pa din yung nakikita mo or what… Sayang din, in a way, coz I was once a teaser to them both, I just wished before that it lasted, but nothing really lasts forever…

vii. VHs constant saying as a "boring game"

Answer:
The Virtual House actually came to that point… But we can't blame anyone or anybody why that happened… Kung naging boring man sabi ng iba, yun ang tingin nila, and I respect it…

viii. Mats topped the "Favorite ASVH" Poll

Answer:
This is one of my faves actually… This I campaigned hard for! I'll give you the link anyways… I'm a ROCKSTAR FANATIC and been a member on this forum for months and they were all helpful! I must say, some thought that I was spamming and all but still they continued voting… And sending the members a personal message! http://www.stormlarge.com/ballzboard/viewtopic.php?t=2221&postdays=0&postorder=asc&start=0

ix. Charles, Mica, Mats, Gee, Marge's Eye-Ball

Answer:
The Best-EST!!! My first EB ever in my entire life!!! MEMORABLE and counts as my 2006 UNFORGETTABLE YEAR-ENDER!!!


FROM: KASHEN MENDEZ
Mats happy ka buh sis kc nkapasok ka sa big3? Expected mho na buh tlaga yan?

Answer:
Of course naman, I am HAPPY… Who wouldn't, right? Yun lang nakasama ako sa Final 6 and then yung Big 4 and now BIG 3, ibang feeling eh… May halong kaba, saya, ang dami eh… Expected? Before, yes… Now? YESH pa din! Kasi naman, iba yung feeling na nafifeel mo na you'll make it to the top… Iba yung feeling kapag masaya ka sa ginagawa mo… Kapag dedicated ka and mahal mo ang isang bagay…

If ever na ikaw na sis ang maging big winner.. Then feeling mho hindi naman talaga ikaw talaga deserving? And granted na payag si BBK huh.. But kunwari lng naman yon coz I know hindi papayag si bbk.. Har..

Answer:
If ever ako ang maging BIG WINNER and feel ko di naman ako Deserving… Well, I'd still keeo the title I guess… It's not actually my decision naman why I won… But, if fate and destiny and tao na nagpopro-test, I can't do anything about it… I guess, Nomination na lang ulit… Di naman sa hindi papayag si BBK I know, BBK knows what's right and wrong and it's him who holds the decision pa din…

If papipiliin ka sis.. cno mas prity?! sis gee or sis mica? and y?! y mho nsabing prity siya and y mho namn sabing prity xa?! justify it.. har..

Answer:
Sinong mas pretty.. They're both pretty naman inside and out... Not that ayaw kong pumili sa kanilang dalawa.. It's just that a person is beautiful in they're on way.. Like for instance: If I say GEE is prettier than MICA, it's not that I'm saying di na pretty si Mica.. There are just certain features why I'm saying Gee is prettier than Mica... Gee is more maputi than Mica.. Gee is more conscious on her physical assets... But if I say MICA is prettier than GEE, it's because, Mica has this asset that Gee and I didn't have.. Mas cool and perfect ang nose ni Mica.. Mica's tall and I've always wanted to do the Runway and become a Ramp Model.. So I say, they're both PRETTY in their own way on the outside.. So I guess, I don't have to choose which is which... MICA and GEE are both pretty in their own ways and I both admire them for that BEAUTY inside them...


From: PAOLO MIGUEL MATA
~ You are the part of the Big 3 one more time. What would you feel if you end up being the runner up again?

Answer:
YAY!!! For the second time around I am part of the BIGGIES again! The famous Final 3 or BIG 3… Though this time, it's a new chapter for me… I've always wanted and dreamed of being a WINNER actually… But it really is my FATE or DESTINY's call if I deserve winning this GAME… For 3 consecutive seasons that Pinoy Big Brother Fantasy Game had it's been GUYS who won the BIG WINNER title and now's the time for a CHANGE I guess… Now to answer your question, well I believe that ALL OF US are a WINNERS already in this game. It's just that only 3 are lucky enough to get to this turning point were we are called as the FINAL 3 or the BIG 3… Who doesn't dream of becoming a WINNER anyways? I myself has always been a dreamer and I wouldn't deny that for a fact! I'm in this game to WIN not because of the PRIZE MONEY that will be given but for the TITLE itself… But if I end up being a RUNNER UP once again not that BIG-A-DEAL for me… I guess that's how life is for me… That's what my FATE and DESTINY wants for me… Being a WINNER is one of the reasons why I am HERE… But aside from being a WINNER, I'm here to PROVE MYSELF to PEOPLE and WIN FRIENDS… I'm LUCKY ENOUGH to have WON the BEST among the 3 Seasons and that is way enough for me… Gaining TRUSTS and BUILDING FRIENDSHIP with different types of persons virtually is WHAT MATTERS THE MOST and I can say I am very fortunate for this kind of chance… This moment I say is, A WALK TO REMEMBER…

~ Arrange these peepz based on their attitude. 1-worst, 10-best. Give a one sentence reason.

ANSWER:
Gee - 9 - I admire her being a smart girl, a fighter and sensitive at times.
Mica - 4 - I love her for being an open book but she's a bit hesitant in every chat sesh we had.
Marge - 5 - We're sisters, JIVE kami but still, something's missing hope to hear from her (more).
Kashen - 8 - She trusted me so much about her life and that made me feel like a real ATE.
Trish - 2 - A bit dramatic, but I think I don't know her that much pa & I'm looking forward for that.
Neil G - 7 -He was never hesitant spilling things to me, OPEN and totoong tao.
Paolo - 10 - He's the sweetest friend I met virtually and I love him.
Kenneth - 3 - He's sweet and everything but knowing him more is one of my wish.
Ian - 1 - He's mean and be offensive a lot of times - words for him are so easy to say but sometimes irrational and insensitive.
Benj - 6 - Same as NEIL G, he's open and the type of person that you really have to dig
deep just to know the KIND HEART inside him.

~ If you are the winner. What will you do with the money?

Answer:
Given the chance and become the BIG WINNER, I guess the BEST that I can do with the PRIZE MONEY is share it with my co-VHs! Another EB - I'll call it! Grand EB for sure! Not Starbucks, I say but some place else where we can all JIVE and GROOVE… Not that Php 1000 is not enough but there's nothing wrong sharing it with FEW of THOSE HANDPICKED persons I met virtually…

~ In season 2, after the game nawala ka na bigla at hindi nagparamdam. Would you do the same here sa All-Star?

Answer:
Yeah, I must be honest that bigla na lang ako nawala after SEASON 2… There were a few issues that I really have to undergo with… Life is never easy for someone like, MARISTEL OCAMPO… But that doesn't necessarily mean that I neglected eveybody I knew from that Season… I just didn't find that much time to go back and be a bit of myself… I dropped a few words from the TAG BOARDS actually during Season 3… This time, I've said it a lot of times and I MEAN IT… Not that I'm making a PROMISE, coz I don't want to break anything nor break someone's heart that became so special to me… But FOR THE ROAD, After All-Star, you'll still see and hear from me…

After Season 2, I was a disconnected online (net to be brief) but never on TEXTS… I'd be hanging still somewhere… Just drop a line and you'll se me running from you guys! That's ME…


From: ANN ROXAS
What's the strangest dream you ever had in the past year and how would you interpret that dream as it realates to your reality?

ANSWER:
The strangest dream I ever had was actually YEARS AGO… And I can recall it very vividly… It was 6 years ago, I think… BEEPERS pa ang mga USO… In my dreams, I received a message saying: "MAG-IINGAT KA!!! IKAW NA ANG SUSUNOD!!!" I just found myself recollecting all the details from my dreams… All the pieces I was trying to pick up and make it whole so as I know what to do… But I failed… The following night, after school, I fell asleep from the couch and that same dream happened again… I received another message saying the exact words and the exact scene on my dream prior… "MAG-INGAT KA!!! IKAW NA ANG SUSUNOD!!!" This dream happened to me for 3 nights straight… From the last dream, dun na ako nabahala talaga… So after my last class, I decided to go ulit sa TAMBAYAN namin sa RK Cuisine sa likod ng FEU… While I was on my way out, biglang nagkaroon ng POWER INTERRUPTION… That time brownout sa buong kaMaynilaan… I recall my friend Jowi told me na may 3 guys na sumusunod sa amin and we better separate ways kesa sa sabay sabay kami mabiktima… So we went our separate ways, and meet up sa tambayan… Nothing bad happened actually… Nakauwi naman ako peacefully and soundly… I even saw my UNCLE… Uncle NOEL… Binati ko sya but he didn't acknowledge my greetings… So sa style niya na yun, I understand him naman… But I forgot the times na he's begininng to be PARANOID and all. After that night and my coincidence with the 3 freaky guys, the unexpected happened and that's the most scariest ever…

My Tita and some family members, nagtataka why he's not home yet… They did a few stuffs na never nila ginawa ever… Pinagtabi ng food and all… Ako naman around 12 noon I went home coz break time namin… I remember, I texted my Kuya na I'm home with my friends and hoping that he'll come down for us… Instead, he called and told me that Uncle Noel hasn't come home yet, since last night… So ako naman, I didn't take things seriously… He even told me that one of their boys saw Uncle Noel's car pa sa may Panay Avenue, and they even checked the doors and found it unlock… They even gather his stuffs and took it home… Around 1:30 noon I went back sa school and waited for my dismissal… 7:30 dinismiss na kami and 8pm nasa house na ako… I saw my Tita Luz and Tita Lani at our house and on the phone… Tapos when ayun, they told me na wala pa din si Tito Noel, so I jokingly said that baka naman naman na shootout and nasa hood ng car niya… Around 8:30 they got this call na nga from the Head Quarters… And the worst is all out… They found my Uncle (not on the trunk) but at the back of his car and his blood drained and all…

*** If I'll interpret my DREAM as to how it relates to REALITY… I say, BIG TIME… I guess, if not for me, to others… I took all the safety precautions as to how to prevent things from happening to me after that text message, but as to how I see things after, I learned that there are a few things that happened in your dreams that isn't meant for you but to other persons concerned… Even before, I know that DREAMS has a lot of significance in our lives and that's how DEJAVU or DEJA INTENDU happens… Sometimes, dreams can be warnings or what… And for me DREAMS are part of one's life that shouldn't be ignored…

What's your idea of dating online specifically developing romance in the chat rooms? Do you think it is really possible? Do you think it is lasting? Have had any experience yourself? (BBK, is this question alright)?

ANSWER:
I think dating online is a bit lame… Yeah, it is possible coz that same thing happened to one of my family member that causes them to break their family because of CHAT and all… It's not lasting, I must say… It's just as simply as, "HAVE IT WHILE IT'S HOT" or just a "MEAN TIME MOMENT" more likely like SPUR OF THE MOMENT and make it unforgettable till you both are very intimate and affectionate with each other, coz really… NOTHING LASTS FOREVER…

Experience myself? Not myself actually… But I don't have to elaborate on it here… It's others lives involved and I felt bad coz they're one of the MOST STRONGEST FAMILY in our clan but because of CHATS and online dating my Tita almost forgot what they once had and shared…

Last question, I am curious, are you in favor of the cha cha? The church would oppose to this and instead would propose for character change? Where are you placing your stand?

ANSWER:
I am not in favor of CHA-CHA or Charter Change… It's just that for me, I think it's not proper that the Church will meddle with the Politics… Where am I placing my stand? Against Cha-Cha…

Oh, I have another question from the game? Who's more handsome? MACKY or JINELLE?(from Season 3)

ANSWER:
More handsome? I think it's MACKY… Kasi mas masculine ang dating…

Is Neil G cute? Heheh

ANSWER:
Yup, Neil G. is cute…
From: NEIL G.
How important to you is winning the All-Star Pinoy Big Brother Fantasy Game
ANSWER:
Important in a way on how I'm going to affect other people's lives… How and what I have incorporated in the game… I've LOVED this game since Day 001. I can play and most of all be myself and gain friends with people that I just met. Important in a way because this game is all about judgement and appreciation, it's our PERCEPTION about the other VHs or players…

WINNING this game is important because we're enable to measure one's perception. and it's amazing how one's act and freedom of choice can differ from one individual to another. It may be just a 100 day game but we can play here without getting bored. I REALLY ENJOYED MY STAY HERE and I LOVED EVERY MOMENT OF IT…
From: Patricia Anne Arreza
Nang matanggal si Kenneth, ninais mo na umapila kay BBK pero hindi ka pinagbigyan. Isa ka ba sa bumoto sa kanya? Naging totoo ka ba sa sagot mo o may nag brain wash lang sayo?
Yes or NO, explain ur answer

ANSWER:
Tinatanong mo kung isa ba ako sa mga bumoto sa kanya? OO, isa nga ako sa bumoto sa kanya (+2 to Evict to be exact).. OO, naging totoo ako sa sarili ko nang iboto ko siya… Ibinoto ko siya sa kadahilanang hindi naman siya matatanggal, ngunit ako'y nagkamali…

Sa council, nilagay mo na gusto mong maging jury lahat ng evicted housemates maliban kay Kashen, ngunit bakit siya ang pinili mong personal jury? Masyadong magkasalungat ang iyong mga pahayag. Explain in one sentence only.

ANSWER:
Sinabi ko na nais kong maging JURY ang lahat ng mga EVICTED HOUSEMATES maliban kay KASHEN dahil akin na siyang napili bilang personal na jury, yun lang po.

Bakit hindi mo piniling jury si IAN? Wala ka bang tiwala sa kanya o nakokonsensya ka sa pagvoteout mo sa kanya? Or natatakot na baka hindi ka niya ibotong BIG WINNER? Explain ur answer

ANSWER:
Sa aking pagkakatanda, isa si IAN sa mga napili ko, na nagkatao hindi ko naintindihan ang naging instruction ni BBK… Tatlo ang nauna kong pinili at yun ay sina IAN, KASHEN at ROMMEL… Ngunit nang sinabi ni BBK na isa (1) lamang ang dapat piliin, ang unang pumasok sa isip ko ay si Kashen… Hindi na pinag-uusapan dito kung may tiwala ako o wala kay IAN… Oo, may tiwala ako sa kanya - buo ang aking kalooban sino pa man ang maging hurado… Kung sa iyong tanong ukol sa ako ba'y nakokonsensya… Lahat ng bagay na aking ginawa, gagawin o nagawa, akin itong pinag-iisipan ng ilang beses, di ko man siya napiling personal na jury, ay walang personal na dahilan o kung anu pa man… Hindi siguro ngayon ang oras para ungkatin ang mga bagay na nangyari na…

Hindi ako natatakot kung di man ako iboto ni IAN bilang BIG WINNER… Kung sa hindi niya ako gusto, wala akong magagawa… Hindi ko ipipilit ang aking sarili kung di ako gusto ng isang tao…

Kung hindi ba naalis si PAO instead of MICA, sa tingin mo ba i-voteout niyo si GEE para maging second place and para kayo ulit ni PAO ang magbida-bidahan sa season na to? Support your answer

ANSWER:
Unang-una sa lahat, WALANG NAGBIBIDA-BIDAHAN sa All-Star PBBFG… Di na namin kinakailangang mag-bida-bidahan… May kanya-kayan kaming mga katangian na masasabi namaing BIDA kami… Maaaring para sa iba, KONTRABIDA kami / ako… Maaaring sa iba SAKTO o nasa GITNA lang kami / ako… Maaring para sa iba talagang mga BIDA kami / ako… Sa Game na ito, hindi na namin kailangang gumawa ng mga bagay-bagay para namin masabi na nagpapaBida kami… Sadyang may mga tao lamang na sadyang na mimisinterpret ang mga bagay o kilos na maaaring gawin ng isang indibidwal… Kung sakaling si PAOLO ang naka-
pasok sa BIG 3 at hindi si MICA, mayroon pa rin akong isang bagay na paninindigan at yung ay ang aking sariling PANANAW sa GAME na ito… Kung sa tingin ko ay karapat-dapat si GEE na matawag na BIG WINNER bakit ko pa siya ivovote out? Eh kung deserving siya eh… Kung si PAOLO ang karapat-dapat ganun din naman ang aking gagawin…

Akin lamang ikinakaBagabag ay ang salitang "MAGBIBIDA-BIDAHAN"… Tila naman ata, kami ni Paolo o AKO na lang mismo ay humihingi at desperado na mapansin at humingi ng sympatiya sa aking kapwa na magsimula umpisa ay di ko naman ata ginawa…

Sa 100 days mo sa allstar.. Masasabi mo bang naging TOTOONG tao ka sa lahat o pili lang ang pinakitaan mo nito? Yes or No, support your answer

ANSWER:
OO… Naging TOTOONG TAO ako sa tinagal ko sa Virtual House… Simula Day 001 wala akong ibang ipinakita kundi ang maging totoo… Sa totoo lang, wala namang kahihinatnan kung magpapanggap ako eh… Higit na aking magagawa para sa aking sarili, sa aking mga co VHs at sa GAME na mismo ay ang maging TOTOO at TAPAT…Kung anuman ang nakita ng lahat sa akin sa personal sa litrato - kung anu ang nababasa ng lahat sa aking Confession at Diary, lahat yun ay ang TUNAY na AKO… Di ko na kinakailangan pang magmalinis o pagtakpan ang aking sarili… Wala itong magandang maidudulot sa lahat at higit sa lahat sa aking sarili…

Sa 100 days mo sa allstar… ikaw ang pinaka-maraming nakabangga: AKO, Jomar, Ian, Paolo, Gee, Mica pero tila ikaw ang laging lumalabas na mabait. Ginawa mo ba ito para makuha ang simpatiya ng lahat? Ano ba ang pinagmulan ng bawat banggaan?

ANSWER:
Di ko nakikita o kinonsider na AKO ang may pinaka-maraming NAKABANGGA… Maari pa siguro ay ang DI-NAKASUNDO…

MARISTEL at TRISH - kung sa tingin mo bilang isang hurado ay akin itong kinokonsider na nakabanggaan kita ay wala akong magagawa… Iginagalang ko ang iyong pananaw… Kung meron man tayong hindi napagkaunawaan, yun ay ang pag-babanggit sa akin tungkol sa ALLIANCE na aking inilakip sa STORAGE ROOM ng PBBFG Forum o Boards… Maaring isa rin dito ay ang patungkol mo kay PAOLO at KASHEN bilang mga IMMATURE sa GAME at nagpapaSIKAT lamang si PAOLO sa kanyang naging sagot sa iyong CONFESSION laban kay Kashen…

Lahat ng bagay na nangyari dito sa loob ng Virtual House, hanggat maari ay nais kong maayos ngunit walang nagbigay sa akin ng pagkakataon upang marinig o pakinggan… Nagkaroon dati ng CONFERENCE sa YM ngunit di ako makapagsalita dala ng inyong naging emosyon ni Mica, at yun ay aking iginalang…

MARISTEL at JOMAR - eto, maari ko pang ikonsider na BANGGAAN… Ngunit alam ko na darating ang tamang oras at panahon na ito'y maiaayos… Nag umpisa ito sa planong EB ni JOMAR, na di ko nadaluhan sanhi ng aking VERTIGO, at sa di inaasahang pagkakataon ay minasama niya at ako'y pinag-isipan ng masama… Wala akong magagawa, kung gaano man kasama ang tingin ng ibang tao sa akin, ngunit - AKO'y tao lang din lamang at di na kinakailangan pang ilathala sa publiko kung anu man ang aking nagawa… Kung mayroon ang isang tao ang may kakayanan na sirain ako sa ibang tao, AKO lamang yun at hindi ang kung sino pa.. Kung ANO ako at SINO ako, yun ang TUNAY na ako, at WALANG HALONG pagkukunwari o pagbabalat-kayo…

MARISTEL at PAOLO - ang pinagmulan ng di pagkakaunawaan ng bagay na ito ay ang biglang pagtahimik ni PAOLO sa ngalan ng PAG-IBIG… Lahat naman tayo ay dumaan sa stage na yun… HUMANGA… UMIBIG… NASAKTAN… Kapag humahanga ka, lahat kasama, pati ang pagpapasikat at kung ano pa… Lahat tayo'y dumaan dyan… Ngunit lahat din ay nalalampasan… Wala kaming DI PINAGKASUNDUAN na HINDI NAMIN NAAYOS… Lahat ng naging isyu namin ni PAOLO naayos… Di naman kami mga ISIP BATA… Alam namin ang sa tingin namin'y MALI na dapat ITAMA… At alam namin ang TAMA na yun pala'y MALI para iba…

MARISTEL at GEE - ito malamang ay nag-umpisa sa isyu tungkol sa pagdidirect address sa aming mga kapawa VHs… I've been careless in too many ways at di ko maintindihan ang naging rules at kung paano ang tamang paghahayag ng mga pangalan ng mga VHs sa aming mga CONFESSION… Wala naman kaming di napagkasunduan ni Gee… Hindi ko lamang alam kung bakit ang ilang isyu dito ay ibinibilang at kinokonsider bilang BANGGAAN…

MARISTEL at MICA - 1st Nomination pa lamang nang IKAW (Trish) ay aking ibinoto at nagreak na agad sina Neil G at Mica na tila ikaw ay maaalis na sa Virtual House… Sumunod ay nang malaman niya na akin din siyang ibinoto sa Nominasyon… Sinabi rin ni Mica na "natatawa raw siya sa iba na parang masyadong nasaktan sa pagkawala ni Benj." na "Ito raw ay isa lamang Game. Kasalanan daw ba nila na nagkataong online sila at hindi sinunod ng iba ang rules… Gusto na raw sana niyang manahimik na lang pero naiirita na raw siya… at sa sinabi niya na "Hindi naman raw sa ipinagyayabang niya ang season nila, pero halos lahat daw sila doon ay matured sa kanilang pag-iisip.." Isa pa ay ang kanyang laging pagtanong sa kapwa niya Virtual Housemate kung ibinoto ba siya o hindi… Di ko lang kasi makita kung anu ang saysay ng CODENAME sa Nominasyon… Kung nagkamali man ako noong una sa nagnominate sa kanya, akin naman itong inilagay sa aking Confession Thread, ngunit hindi lang yun ang pagkakataon na siya ay nagtanong sa amin… Di ko lang maintindihan kung bakit tila BIG DEAL sa kanya ang aking pagboto sa kanya… Pati na din ang pagSave sa kanya sa nakatakdang Nominasyon.. Kung Save lang, walang problema, ngunit, yun ay tila di maganda para sa akin...

*** Kung may mga nasambit man akong mga bagay dito, ito'y sa Virtual House lamang at hindi kasama ang aming buhay sa labas ng Virtual House…

Ang mga pangyayari na ito, ay di ko gagawin para lamang kumuha ng SIMPATIYA… Hindi naman ako DESPERADO para lamang gumawa ng isang bagay na hindi kanais-nais para lamang sa kakapirasong awa… Di ko makita ang dahilan para ako kumuha ng simpatiya sa ibang tao… Kung di nila ako gusto, okay lang… Kung tipo nila ang company ko, walang problema sa akin… Di naman ako mahirap pakisamahan… Di ko makita kung saan patungo ang mga ganitong katanungan… Basta, malinis ang aking konsensiya at alam ko wala akong natapakang tao dito… KAPAYAPAAN mga KAPATID, mga KAIBIGAN…