Maristel confesses:

We'Re liKe frOzeN.. naFrEeZe aKo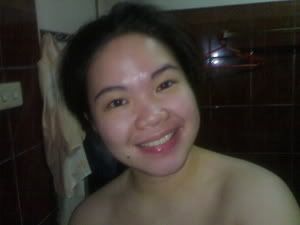 YIPEE!!! YAY!!! Tama ba ang nakita ko sa Group Battle natin, BBK?! NakapagUpdaTe ka na BBK!!! MeaniNg,,, YOU'RE FINALLY BACK!!! Yay! Ang saya saya kO naMan taLaga!!! iBig saBiHin, nakabaLik na aNg aMiNg BIG BAD KUYA... Ang gaLiNg naMan!!!

AcTuaLLy mAs haPpy na nGayOn fOr me aNd gEe, na taLaga naMang nagWoRry... Ang taGal diN naMing nagWorry sa iNyo BBK... Kasi, di kaMi saNay ng waLang posT ni BBK sa BOARDS... NaLungkOt kaMiNg mGa hOusEmaTes kaSi iT's bEen daYs.. DAYS!!! NuNg nawaLa kaYo.. HoNesTly.. nakakaLungkOt kaPag waLa aNg aDmiNisTraTor kaHit paPaaNo.. KaSi naMan we'Re liKe frOzeN.. naFrEeZe aKo.. nOt acTuaLLy na wAg magPosT or uPdaTe heRe.. Kaya Lang paRaNg tHe i seE it, duRing tHosE dAys yOu'Re gOne.. paRaNg maY kuLang.. aLtHougH, naKaKacHat aNd naKaKaUsAp kO pa dIn siLa Gee, PaOlo, ChArLes, miCa, kAsHen, NeiL.. StiLL tHeRe's tHis gUt feeLiNg na paRang mAy hiNaHanAp kA.. paRaNg di kUmpLeTo yUng daiLy rOuTinEs mHo kaPag mAy hiNiHinTay kaNg iSanG tAo aLmoSt eveRyday oF yOur liFe aNd wHen yOu gO cHecK whO's tHat miSsIng pErSon,,, yOu'd sTill fiNd oUt waLa pa dIn paLa,,, naKakaLunGkoT..

At leAst maTiTigiL na yUng mGa naIisiP naMin ni Gee na poSibLeNg maSamaNg nanGyaRi sa iNyo.. i'm reAl gLad BBK tHat yOu're fiNally baCk.. FraNkLy.. i mAy sOuNd nUts,, pEro i waNteD to Text BBK to 2366 na taLaga.. KaSi paRang di maTigiL uNg uTak, iSip kO kakaIsip sAn na kYa kaYo naPunTa.. IniiSip kO na laNg,, siNce yOu're fRom BicoL po BBK, maARiNg naStRanDed laNg kaYo oR sOmeThing.. Na wAg naMan saNa magKaToToo,, wHateVer iT is na naiiSip kO..

WhaT maTTers iS yOur fiNally baCk.. ThE hOst oF tHe gaMe iS bAck..! yUn lAng enOugH na tO maKe evEryOne iNside tHe viRtuaL hOuse haPpy..

Nga pO paLa aNg saYa kO laSt niGht.. KaSi i gOt tHe cHance tO havE tHis vOice ConFerEnce wiTh ChArLes aNd Gee.. NaaLiw kMi sObrA kAy cHarLes.. KaSi tAlaGang kaNta siya nG kaNta.. FirsT na kiNanTa niYa yUng maGiNg siNo ka mAn aNd tHen yUng naKapagTataKa.. TaWa kaMi ng Tawa nI Gee..! iT wAs so hiLarIous!!!

HaIii.. sO aNywaY.. uN po mUna aNg cOnfesSiOn kHo.. oR i gUeSs i maY haVe saId tOo muCh na dIn.. maBuTi naMan po aNd maiPagpapaTuLoi na naMin aNg scRaBbLe..

hOpe yOu'rE sAFe BBK..