Gee blogs:

Reasons why I Love and Hate having a Cell Phone...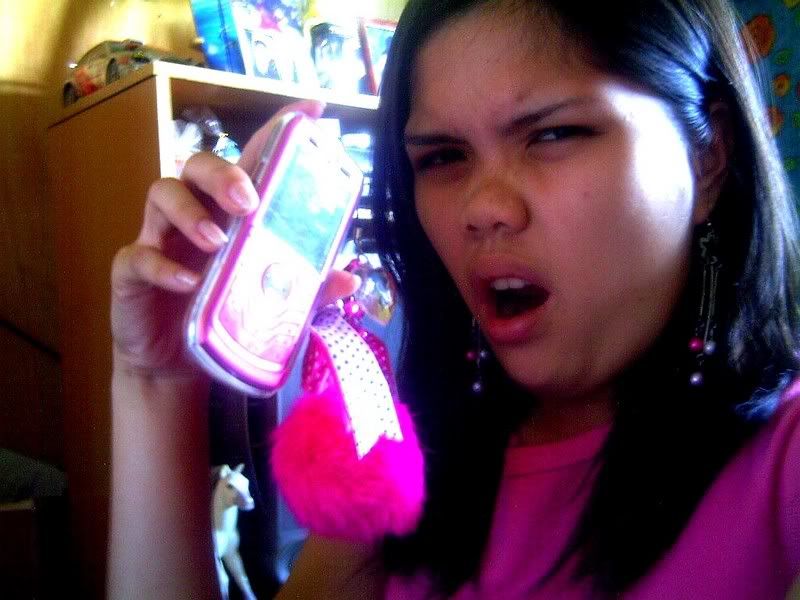 Hurray! I'm celebrating the first WEEKSARY of my Fone... haha!

My mom really loves me... I begged her one to time to buy me one because I can't really take the life w/o a cp anymore...

" Kahit Motorola L6 lang... 6k lang ang brand new... or kahit second hand lang basta may fone, waaaah!!!"...

Those are the exact words I've said to her... haha! And eventualy, she bought my desired fone and I was like "Errr, sana L7 na! Yung may memory card..."

"Come on Geexie! Where's the contentment in you? Pasalamat ka nga't brand new pa eh..."... Sabi ng aking konsensya!

Well, well, well, so I have a fone na and I'm back sa SMS World... Unli ako yesterway, hahaha... And I must say that I really missed forwarding and receiving endless quotes. Kaya lang, eventhough I miss it al lot, I still have the same rants having it...

So there, I'll be giving you my Reasons why I Love and Hate having a CP...



**::LOVE::**


~ Because I get connected to my different friends's Texting Community. There were times when there are certain topics that my friends love to talk about . Aw I can't relate to some... JOHNNY, my highschool friend was a FORWARDER (haha) of some silly news about my highschool friends ( e.g. JM [ our fat friend] , nagtangkang magpakalunod, LUMUTANG! .... PHILIPP [ our dark friend], balak patayuan ng rebulto ngunit walang makitang ITIM na semento... source: black market... ASTRID, nanalo sa Ms. Gay Calumpang... and so on! )... Wala lang, nakaka-awa naman ako kasi nakikibasa lang ako... Haha!

~ Because I love receiving even the corniest jokes in town. Haha! I don't know but jokes like " Bakekang, tantanan mo ako... Hindi kita anak - Mike Enriquez" can make my day... Just send me all of your jokes, and walang corny sa akin... Lahat yun tatawanan ko... hehe...

~ Because I love communicating with my long lost friends through this. I have such friends kasi na hindi mahilig mag-online and I'm thankful that having a celphone bridges my communication with them...

~Because I love taking pictures of my self though this. Haha.. I don't know. We have a digicam naman but I think I look better sa mga cellphones...

~ Because I love keeping in touch with some hot boys in town... Lolz! Don't get me wrong! I'm not flirting... Haha... I just wanna keep their numbers ( Oh really? hehe).. Yes, I don't even have the guys to text them like " musta na? " or what are you doing... I'm just glad sending and receiving quotes from them... ( Fact: my number ako ni Martin Reyes... Bwahahaha!)...

~ Because it's like a "props". It's effective when you're waiting for someone and you're alone. Hahaha... Or if you just don't like the company you're into.. Or simply if you're bored with some stuffs. I just don't wanna look silly... It's better to have a stuff that you're holding.



**::HATE::**

~ Because I don't like receiving messages when I'm on school or other place. Wala lang, it disturbs me kasi... Lalo na when I'm having the time of my life... hihi

~ Because I often disturb my classmates. Haha, I often forgot to turn my fone into a silent mode and that scene ends into an embarrassment. Oh well.

~Because I hate receiving messages asking If I can be their darn TEXTMATE. Save it! I won't answer a message from someone I don't really know ( Asus!).

~ Because I hate receiving Chainletters. I was guilty of forwarding such on my early years of having a phone but I really find it annoying. That message shall command me to pass that to certain number of peeps or else... That's the part that I hate, the "or else" part... Why? Are you fortune teller or something? Grow-up!

~ Because I don't like to receive messages from my Mom like " Anong oras na? ", " Umuwi ka na!", " What time ka uuwi?'... It just ruins my night... I supposed to enjoy but the the thought that my mom shall nag be about this bothers me.

~ Because I don't want to be showered with this words: " Bat hindi ka nag-text?" or " Bat hindi ka nag-reply". Wala lang! Enough said.

~ Because I don't want to be followed by some. Hehe... Again, enough said!

And lastly....

~ Because I hate the fact that I'm risking my life everyday because I have to protect that one. Yes, and it's really irritating to accept that even the 5110 phone is not safe... After I've been a victim of those cases, I really hated all those phone snatcheers in the world. I can never forgive them... Anyway, God Bless them all. Phbbbt!



So there... I hope I won't receive a text message saying " You're such a loser!"... Hahah!

Byesh!