DAY SEVENTY-SIX

Gee blogs:

Last School Day of 2006...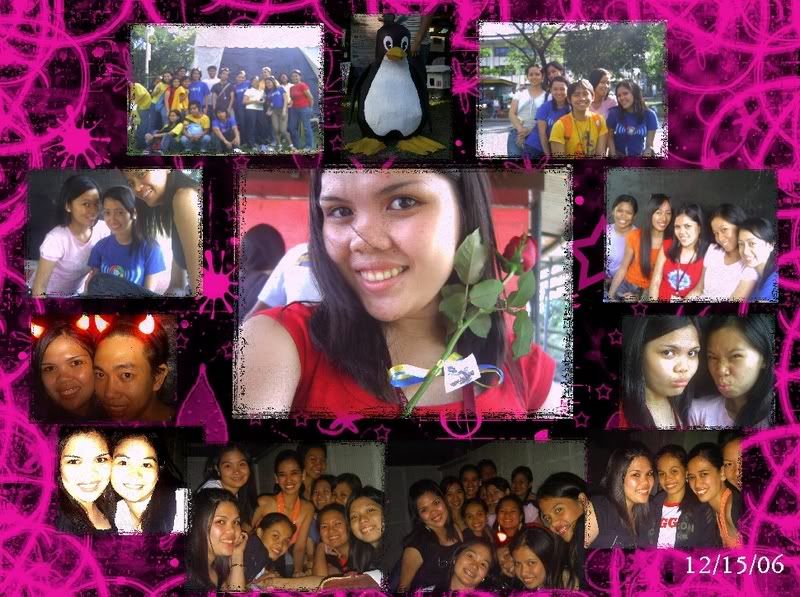 December 15, 2006...

Ayun, I knew that this will be vewee long day!

For larger image, click here...

THE ARRIVAL

Well, we don't have classes! Ang KJ naman nila if meron pa no! Hehe.. so for my first stop, doon sa tambayan with Sis Chel... Ang aga! hehe... Then, just to kill time, we walked around the acad oval... Wala lang, trip lang! We thought that was fun, but we're wrong! It's very tiring! Errr... Anyway, in the middle of our walking session, we went to the Vargas Museum to visit a very intriguing place - its WASHROOM... I just remember that Veron and LC once said that the museum has a very GOOD CR... And they're right! Cute siya, very homey ang style...

THE OBLATION RUN

So then, after the very bright idea of mine ( sowee sis! haha! ), we had eaten our lunch immediately ( preparation for the next even which is) THE OBLATION RUN! Haha... Para namang di ko na-witness iyon last year and last July (?)... I was just excited to have a good shot of the said event... My video clip last year was a disaster ( caused by the excitement I felt... first time ko iyon eh...). haha! Good thing, I was with my place last year... Oo! Umayos yung kuha... "Sapul na sapul" nga daw sabi ni Ate Lanee... Hehe... Ofcourse, I've learned from my mistakes last year! Hahaha... Wanna view? Click here.

So there, they are still shouting for the same reasons... Aw! One of the few people that I admire in UP... Oh well...

THE ILIS BOOTH, ATE ANNE AND CINDY AND THE CANCELLED LANTERN PARADE

There, after that event, a G.A. ( ILIS ) was held to talk about some issues ( well, actually, we were late so hindi ko masyado naintindihan...). Ang alam ko lang is, we won't join the Lantern Parade... Whatever! So we decided to make tambay muna sa booth ( and took some pics... haha!) and after that, we went to our tambayan with Cindy and Ate Anne... Ayon, that was a heck of fun din... hehe... We played some card games ( kasama na sila! astig noh?haha!)... and some revelations happenned ( uyyy, forever! may mga durog na diyan! haha)... And ayun na nga, CANCELLED NA DAW YUNG LANTERN PARADE... But there were still colleges na nagparticipate... ( sayang, I don't have pics)...

SISES NIGHTOUT @ BASEMENT

Ayun, I'll never forget this one kasi this is my first nightout with my sisses... And oh well, may special participation nga pala dito c Markee a.k.a. Siz Melanie... Hehe... And who will beleive na piayagan si sis Chel? Haha! Ang saya!

So after 10 years (haha!) ay nakabalik na din ako sa eastwood... There, we have some pics ( siyempre naman, haha!). We danced like hell... Hehe, ang saya ka-jammin ng mga sisses.. Enjoy ka dance si sis Gwen, sis Ciela, MELANIE, sis Bam and ang mga queens ng dancefloor ( sis Monique and sis Dimple). Sayang, di ko ata napansin magdance si Bosang... hehe... And the rest, todo-bigay (lalo na si sis jen... hehe). Ayun, I met some named BILLY daw... Wala lang... hehehe... What else? Ayon, enjoy! Pero nagulat na lang ako because nakaalis na pala yung iba... hehe... Sayang, Di na ako nakasama sa next stop nila...

Oh well, it was indeed a very long day... A very long last school day of year 2006... I wonder what'sin store for us next year? Well we can do it! Kami pa!