Gee blogs:

Red Shirt Day... And As Always....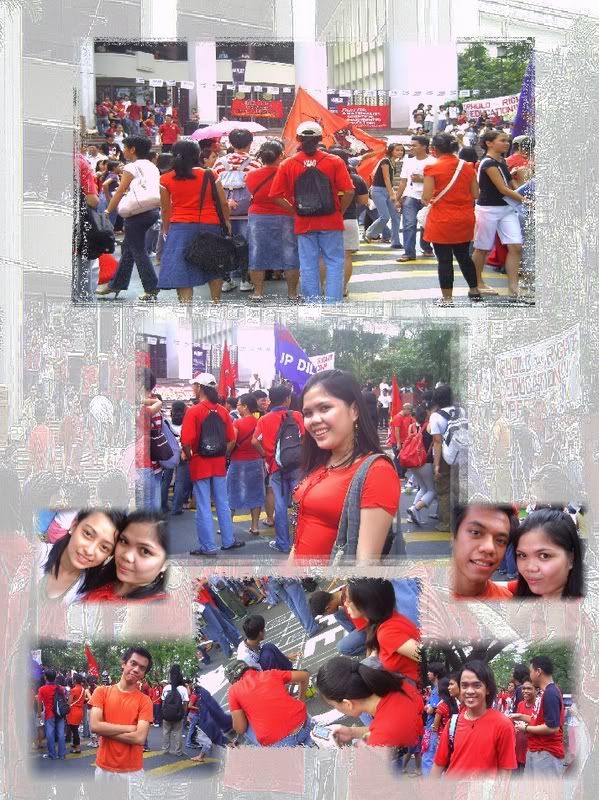 In my entire stay in UP Diliman, I've experienced lots of Red Shirt Day... And it's very sad to say that only few UP students express their care about what's happenning...

This is the first time I've ever attended a protest ( oooppps, second time... haha! the first one is about that judgmental justice secretary...) and oh well, I think it's time to for me express that I truly disagree with a certain rule which will be possibly imposed sooner or later... Before, half of the reason why I'm wearing RED during the redshirt day is because, Red is my favorite color and there's a perfect reason upon wearing that, in short I JUST WANT TO WEAR A RED SHIRT... But as time passes by, I'm beginning to realize the essence of uniting with those who have the same beliefs as yours and willing to express it no matter what. So this day, I wear my most "jologs" Red Shirt ( no chioice na kasi...) not because I just feel like wearing it...

Anyhow, I'm really disappointed. The moment I was in the jeepney, I was so sad, being the only UP STUDENT having that shirt. And then, on the program proper, the attendees was quantitatively disappointing and , hmmm, let me say, some were not that sincere? Yeah, I do feel that there were some who came for PHOTOGRAPHY'S sake... Oh well, I can't blame them... When I was a freshie, I almost did the same... Haha!

I know, some feedbacks about this event are not that good... I've heard ( or let me say read. haha! ) someone saying " Gumastos naman kayo para sa edukasyon niyo!"... Someone also said " Well enough but they should have passed proposals instead ..." or whatever!... Oh well... I respect their opinions... About that proposal thing,,, I believe that action was done ( I'm not just sure)... But I think UP STUDENTS aren't that stupid enough to make such hullabaloos just like that... Well well well...

So there, another red shirt day has ended... I wish something good will happen. How I really wish...