Charles blogs:

Years of Friendship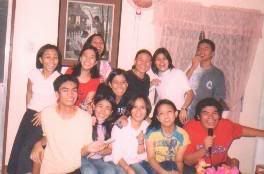 L-R:Sitting: Jimmy Candor, Sherileen Suratos, Macky Lechadores, Levie Gatchalian, Me (Charles Viloria); Middle: Rachelle Duque;

Standing: Maricris Laredo, Lorraine Dela Paz, Marla Ventura, Kelly Apacible, Jhunie Del Rosario, Terry Candor (Brother of Jimmy);

Not in Picture: Ken Izutani, Carla Cabrera, Christian Urita,

Happy 5th year anniversary! Justillence Barkada.

I'd like you to meet my Barkada since High School.

JUSTILLENCE came from the words "Justice" and "Excellence", names of our 4th year sections in Lycee D' Regis Marie. Our group first started when we were at 2nd year HS, and the number grew when we became classmates during the 3rd year.

2003 was the year we adopted, in addition to our Barkada name, since it is our batch year, but we officially celebrate the beginning of the barkada way back in 2001, making us friends for 5 years.

We don't actually remember the exact date when we started going as a barkada, but again for celebration's sake, we do it every 28th of November, because that was when we first saw a movie together (Harry Potter 1).

So, how did we celebrated our 5th year? Just by greeting each other through text, but we pre-arranged an out-of-town in December, that will compensate for the lost of proper celebration, as we were so busy with our own stuffs.

My wish for our group: I hope that our friendship will last forever.