Gee confesses:

I found the situation funny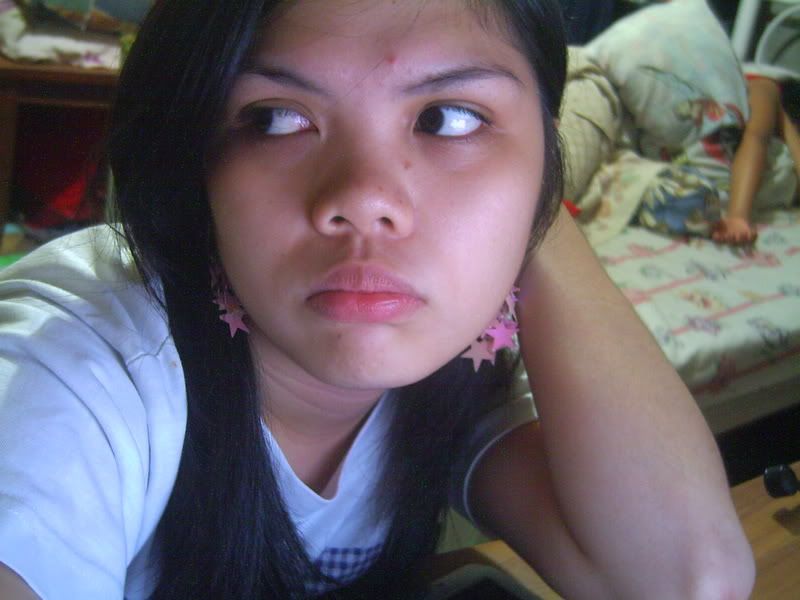 So, it's Ate Ann! Haha… Well, I found the situation funny, where I was actually cogitating among these peeps: TRISH, KASHEN, ROMMEL. They have high net points kasi. And then it's Ate Ann pala… I actually forgot that she's on the scene… Hehe..

Well, well, well… The house is getting weird now. Akala ko ako na ang pinakamataray dito ( joke lang! ) but look... I'm used na kay Ate Mats eh. Pero…Pao? Kashen? Jomar??? Kayo ba yan? Haha… Charles??? Our Vhouse is turning to a very MAAADDD home! Waaah!

Kashen, it's okay dear! I do believe na hindi ka PASAWAY. 1st, the IP ADDRESS issue, don't worry, that evidence is not enough for us para i-judge ang buong pagkatao mo. Then, when you and pao got 2 evicting points, the rule about visiting the blogsite is vague pa diba? hehe... And the thing that we did about posting on guest's thread, marami nmn tayo doon. Well, well, well, sa mga unang sinabi ko? ANO BANG PASAWAY DOON? Think... think... think...

Pao, haha! I can't beleive it! You're getting mean! hahaha... Isa ka pa Jomar... hahahaha..

Gosh, look what's happening now? Tsk tsk tsk…

If this will be settled immediately,,, oh well, I don't think so… With THOSE words from those KIDS (hehe… except kay Ate Mats ah!). I think the word SORRY isn't enough… Some expressions are below the belt eh… Considering that it was given to them. Hayyy…

Hindi ako nanggagatong ah! Haha… I'm just stating my outlook.

So ayun, what do you think will happen next? ; )

=============================

edit: So good thing I've read this post before posting this...

Quote: GEE - kung talagang di effective ang pagpaparinig eh bakit lahat kayo sobrang naglulupasay sa pagrereact? aber? ikaw, may i ask you this... are u sincere ba sa pag cocondolence mo sa akin? or wala lang trip mo lang sabihin yun..... ika-tutuwa mo ba yung reason na family mo ang involve? i dont think so!

Dang!!! Haha! Whatta... First of all, regarding that PARINIGAN thing, I want to tell you na I'm not just referring to YOU! Duh???

I'm saying that it's worthless? Why eh kasi alam din naman ng mga yun kung sino sila right??? Why don't you make it straight? Besides, baka meron pang uninvolved person na mahurt... Ayan, I'm repeating my post again last time... Nabasa mo ba? Or hindi mo lang naiintindihan???

About being sincere... duh? What's the connection with the votes? If we feel that you are the most likely to leave, then you can't do anything about it! Yes I was concern about your feelings dahil napagdaanan ko din un! And, oh well, I found it pathetic, you're questioning my sincerity? Haha! Why the hell you are coordinating our commiseration for you in this GAME? THIS IS STILL A GAME! OMG! I'm very disappointed to hear those words from the oldest person here, who's from the SEASON of MATURITY… I'm very disappointed!!! Sorry…

Regarding the reasons involving your family,,,, read this carefully!

Quote:"Wild Ponies": I want to give my +4 evicting points to Trish. I want her out of the Virtual House so she can take care of all of her family members that are sick. We have limited time of talking and I really like her attitude and I love her personality, but I think she needs more time in her personal life.

Quote:NEVERWINTER +4 EVICTION pts ky Trish. hndi kasi siya active masydo. I thnk also mas intindhIn nya na lng ung geb coz pdE nya nMan gwin yoN kht wla na xa game..And its goOd na mag tke xa ng break sa ngyri sa lola nya…

Ito lang naman ang mga nakita ko na kasama ang family mo… Wild Ponies and Kashen both think that you should take a break and be more focused sa personal life mo! Is that reason below the belt? Or you are just mistaken because the phrase YOUR FAMILY is just included??? OMG! What's wrong???

Guyzzz,,, please, let's be logical! Wag masyadong padalos dalos ang emotions! Mag-isip muna bago magsalita!

Trish, as far as I remember, nasabi mo sa akin na huwag masyadong personalin ang mga pangyayari… Eh anong ginagawa mo ngayon???

I'm trying to understand you, na nasabi mo lang iyon dahil galit ka! No offense, you're acting like a child!

Oh well, I'm sorry to say this pero, it looks like, napagaya na ako kina Kashen and Pao.

I'm sooo disappointed sa iyo!