Maristel and Kashen's activity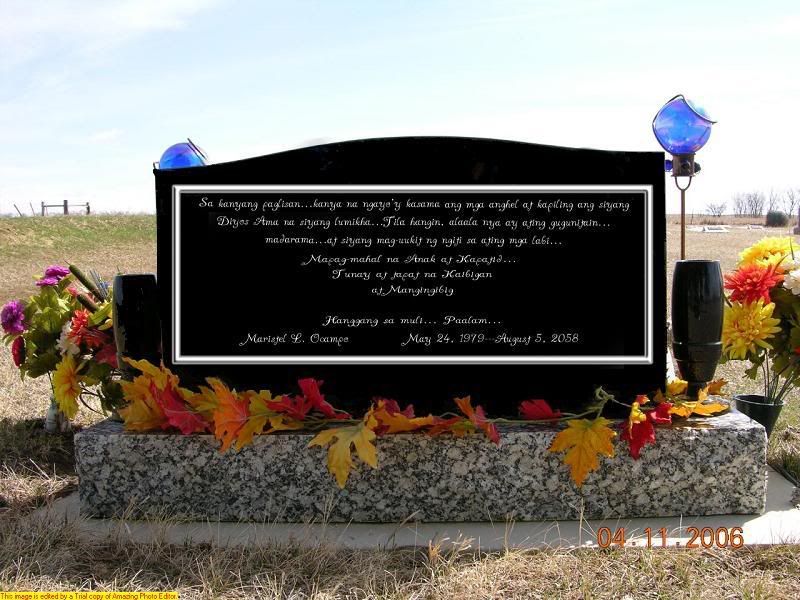 For me... Kung mamamatay din naman ako anytime... I don't want it to be a sudden and painful death... I would rather be taken from my sleep where I really don't know how I'm going through... Subconscious death (I guess...)... Yun bang, isang araw, di na lang ako magigising... That eveyone will be surprised from my Death... Most especially my Dad, who all this time thinks that he was never important... That everything he did for us was never appreciated... Na sobrang yaman niya and not a single penny have I ask him... All this time, as the eldest... I was the one who's responsible for all the bills at home... I'm the one who provides allowance for my Mom and every once in a while, i do help my brother for milk and medications of his baby...

But before that... I want to be stable and have enough money or savings, para mangyari man yun (knock on wood) , I won't leave my Mom, my brother and his baby empty-handed... As much as possible, I wanna see my niece growing up (maybe not normally like most kids...) but I do pray that in due time I will be able to save and provide 350 to 450K for her open heart surgery... Mayroon kasi Congenital Heart Failure, may dalawang butas sa puso niya... I want to see her going to school and of course to spend more time with her... I wanna travel the world first... To have a family of my own... Have at least 2 houses that I or my husband and I won't be renting... To have a nice vacation house by the beach... A car of my own... A car or a van for my family for Family Trips... Of course, I want a different family compared to what I've been through... A man that I will love and give my life with and a man that I'll grow old with... I want a family that LOVE, HAPPINESS, PEACE, TRUST and have STRONG FAITH IN GOD as the foundation... Everything that I'll have, I'll share it with my family... Coz LIFE IS SHORT. And we have only one life 2live... And we should make the most out of it... As if there's no TOMORROW... "LIVE EVERYDAY AS IF IT'S OUR LAST..."

I want to help all the people around me... My cousins, who were very SUPPORTIVE all the way... All the people that has been close to my heart... The people I've loved the most and loved the least... It doesn't matter, I love them all... But not all of them are top of my list... But still, I 'll help them...

Dun naman po sa EPITAPH ko... I just thought of that while I was listening to one of Bread song... I don't believe po kasi sa purgatory... I KNOW THAT ALL OF US HAVE A PLACE IN HEAVEN... Guess, it's not too crowded there for a few more... It's GOD who created us all... And I know, after death, WE ARE ALL DESTINED TO GO BACK TO WHERE WE REALLY CAME FROM... And that's to be with Him... The Creator... When that time comes, I may be gone, but I want to be remembered... I wanna be like THE WIND... I want them to remember all the HAPPY MEMORIES... All the laughters we've all shared to one another... The moments... That will give "SMILES" to their faces...

*P.S.
I want everyone wearing white for my burial...
I don't want to see sadness on their eyes... I want them to remember the "Happy Ting"...
I want a WHITE BUTTERFLY RELEASE after the burial once I'm down there six feet under...
and finally the
SONG: For The Widows In Paradise; For The Fatherless In Ypsilanti by Sufjan Stevens

Just like what FRIDA quoted...
and now it's ME...
MARISTEL (mats or ting)
"GONE BUT NEVER FORGOTTEN..."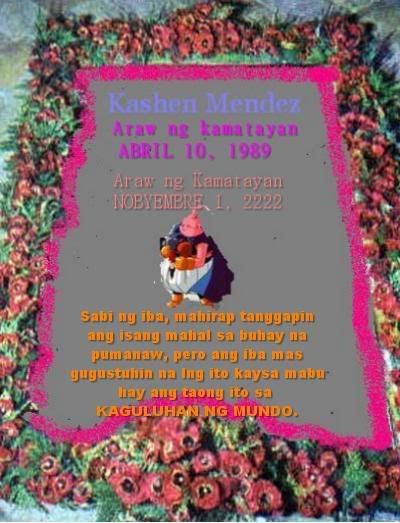 1) May design xa na flower coz gsto ko ung lapida ko if mamty ako may flowers gilid.
2) May pic xa ng monster ni buu in dragonball z bcoz i rily like that monster..coz pink xa.
3) I used different font colors para hindi uniform tignan ung mga sulat
4) Im happy with my work..
5) Bbk mahirap kaya gumwa ng 50 risons..hmf..k na muna toh..nsa tgaytay kc akho kya ginwa ko xa agad..>.<