ASVHs' final messages for Ann, ASPBBFG 2nd evictee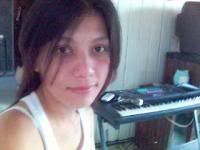 Paolo: At first yeah I was sad. pero ngaun I'm happy. Well not that I don't like Ann she is one of my bestfriends here, naalala ko nung Season 3 pa lng. We always talk about stuff na nagkakasundo kmi. Ngaun na sobrang busy cya cguro She will feel relieved kc tanggal na cya at makaka-concentrate na cya sa mga school works nya and sa mga daily things na ginagawa nya.

I won't say that I will miss her. Alam ko na mag-uusap pa din kami. I really like her silent-type-but-pleasing personality. I want you to know na nasa YM lng ako lagi. ok?

Neil G: ANN, you may have some more important priorities in life like school as paolo mentioned.... Naiintindihan ko naman. Good luck nga pala sa studies mo.

sayang at di man lang tayo nakapagbonding ng matagal tagal sa loob ng bahay. hope to have to hear from u still kahit wla ka na sa bahay ni BBK. God Bless.....

Rommel: Ann, i am so sorry you got evicted.. you are actually better than some of the remaining housemates here. good luck... hope to talk to you again... soon.

Gee: Ate Ann! Waaaahhh... Sayang naman at hindi ka masyadong nakapagparticipate.. I understand, you're sooo busy.. Sayang, hindi naipakita ni Ate Ann kung paano siya maglaro. Lolz!

Anyway,,, Goodluck sa ginagawa mo! You can do it! Haha... Go Fighting Maroons! (UAAP BA ITO? hahaha)...

Ayun, I won't miss you kasi I know you're just a BUZZ away... haha! Mwaaaahnessss!!!!

Maristel: Grabeh naman 'toh Ann?!?! Actually, di naman kaduda-duda... Like nga ng sabi ni Ian, "attendance is not always a must..." Kaya lang, ayun tuloy... Gone so soon ka... Di man lang tayo, nakapagBond ng mas matagal... I know, you're busy din naman kasi... I just hope... That we might bump into each other somewhere... Minsan, dito ka din naman sa Manila, 'ayt? Well, LIFE DOESN'T END HERE sa Virtual House... Goodluck sa lahat!

One regret though, wish I've known the deep person in you... Haiii... Stay safe and be safe always!!! We'll miss you sa biglaang YM.

Ian: Wala lang. di kami close eh. oh well.. bye.